10% off all theatre through SWR.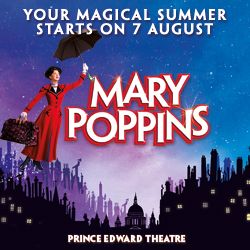 Disney and Cameron Mackintosh's multi award-winning musical Mary Poppins flies back to London's Prince Edward Theatre on 7th August.
Starring Zizi Strallen in the title role and Charlie Stemp as Bert, the magical story of the world's favourite Nanny is triumphantly and spectacularly brought to the stage with dazzling choreography, incredible effects and unforgettable songs.
Whether you're a fan of the books or the films or all of the above, the musical version of Mary Poppins contributes completely new songs and original adventures in addition to the previous stories. All in all, regardless of the differences, this joyful musical keeps the same heart warming whimsy of the classic family favourite.
To redeem these exclusive prices click 'Redeem Now' below and enter SWR10% at checkout to receive your additional South Western Railway Rewards exclusive 10% discount.
Terms and Conditions:
Booking Period: 28 July 2021 – 26 June 2022